The Sustainable Development Goals (SDGs), adopted by all United Nations Member States in 2015, are the UN's blueprint for a more sustainable future for all. At its heart are the 17 SDGs, which are an urgent call for action by all countries – developed and developing – in a global partnership.  We are developing technologies to produce renewable chemical that create a sustainable value chain for a low carbon bioeconomy. Lignum is proud that our sustainable technology can contribute to accomplishing the following goals.
How does Lignum contribute to UN's SDGs?
Biofiller is made from inedible resources.
"The first generation biotechnologies utilize edible biomass such as sugarcane, corn, and cassava as their feedstock. However, using edible biomass can create competition for food by increasing food prices. Second generation biotechnologies now utilize inedible lignocellulosic biomass as feedstock, which is advantageous because it is carbon neutral and does not require the use of foods that are otherwise consumed by humans." – Biochemical Engineering Journal, 2018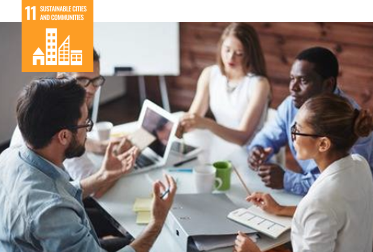 Our innovative technology makes biorefinery industry commercially viable, creating job opportunities.
Lignum contributes to achieving the goals of sustainable cities and communities through the establishment of biorefinery industries with low-risk profit structures and production of bio-products having stable markets .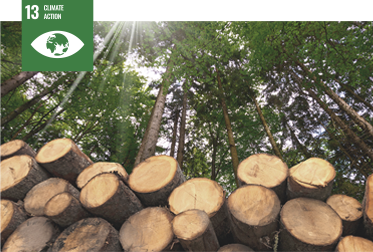 Lignum process does not emit greenhouse gases because Our process uses wood produced by photosynthesis as a raw material.
Using biomass resources for chemical and polymer manufacturing is important from an environmental aspect. Biomass is the feedstock of organic carbons photosynthesized from CO2 in a modern atmosphere. Thus, the total amount of CO2 in the atmosphere does not change. – Journal of Polymer and Environment, 2007
Our eco-friendly technology contributes to making our planet clean by converting lignocellulosic biomass into biodegradable products.
Materials made with Lignum's green technology are biodegradable in nature and do not pollute the planet's ecosystem. In addition, CO2 produced by decomposition of our products does not affect the concentration of CO2 in the atmosphere.